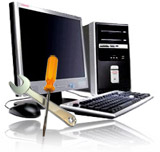 We offer a professional pc repair service catered for your individual needs. We also understand that you may have a busy lifestyle so we can also collect from your home or work premises within Rochdale free of charge. However a 45p per mile round trip charge will be added if you want us to collect from your home or work premises if you live outside the Rochdale borough.
You can trust us with your equipment as we take great care to provide an excellent customer service experience from first contact to completion of the repair.
We can help with a variety of computer related issues ranging from replacing broken screens and setting up networks to virus removal and data recovery.
Most common faults with desktops include amongst others:
Unknown or forgotten passwords present
Faulty lcd display – cracked lcd monitor, or lines down screen
Keyboard or mouse no longer working
System running slow
Virus infected system
Microsoft Windows 7 error messages
Microsoft Windows 8 / 8.1 causing slow running systems.
Microsoft Windows 10 login issues
Cracked or loose fitting desktop plastics
Optical drives no longer reading or writing discs
Desktop does not power on any more
LCD monitor no longer powers on
No longer plays any sound through speakers
Fails to load games or programs properly and may also show blue screen error messages
Graphics look corrupted on screen
Can't connect to the internet
Wireless no longer picking up router
We are able to remove passwords from most laptops and desktop pc's, please contact us for details of this service
We can also offer to install alternative free Linux distros of your choice. There will be a charge for this service although I would be happy to offer free advice as to where and how this can be done for you.
Please contact me for up to date prices and for a more accurate quote tailor-made for your individual needs
We take every care to respect your property and your personal data while it is with us, however it may be necessary to wipe hard drives to remove viruses or other problems with your system, all personal data will be permanently destroyed in these cases. This process cannot be reversed once it has been completed.
In all cases we do not take any responsibility for loss of data, please ensure you have backed up your data before handing over your equipment to us. We can also offer to backup your data for a small charge.
A common problem encountered with computer systems these days which are running Microsoft Windows 8 / 8.1 operating systems is the terrible lag and slow running of the machine. This is resolved by downgrading to Microsoft Windows 7 or upgrading to Microsoft Windows 10 on the affected machine. We can do this for you at cost. Please contact us for details.
We can also offer printer repairs, please contact for details.